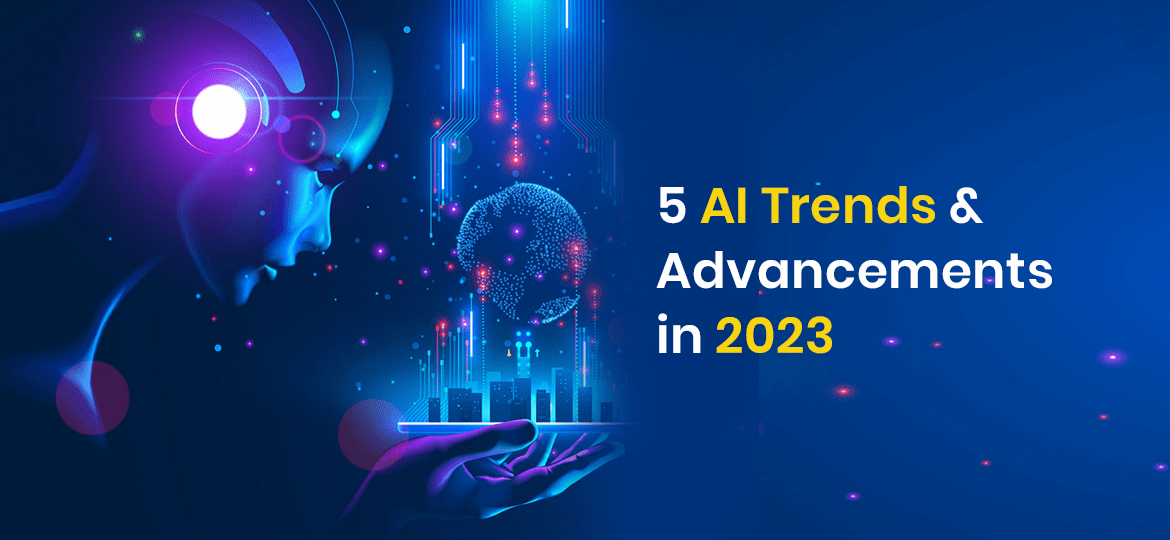 5 Artificial Intelligence Trends & Advancements in 2023
Artificial Intelligence [AI] is getting more embedded into the business landscape and many organizations are increasingly maturing their AI pursuits. With the rise of Artificial Intelligence, there is an increase in the number of AI trends and advancements coming to our everyday lives. It could be a robot that can perform a complex task or a machine that can communicate with us through language.
1. AI FOR VOICE & LANGUAGE-DRIVEN INTELLIGENCE WILL PROLIFERATE
Voice & Language-Driven intelligence is a genre of AI that can listen, translate, interpret, and act in a real-time voice where it can transcribe conversations as they happen.
In Voice Intelligence, the model of AI that is deployed for a specific case can listen to the voice, record data, process it, and apply it for insights. The remote working revolution created a surge in voice solutions aimed at improving business processes.
It uses Machine Learning and Natural Language Processing [NLP] for instant speech recognition and contextual translation. It can also differentiate one voice or speaker from another.
2. AI ETHICS WILL BECOME TANGIBLE
More than half of the organizations have made solid strides in taking steps to embed AI into their existing approach to business ethics and many of those are creating AI-specific ethics mechanisms.
Ethics plays a major part in the stimulation of innovation and economic growth as more organizations realize the need. AI ethics aims to prioritize human agency and well-being while reducing the risk of adverse outcomes that helps to yield the outcome of advancing trustworthy AI.
AI Ethics is the set of values, principles, techniques, and practices applied to the creation of intelligent computer programs. As technology develops and advances, there is a strong need for ethics.
3. ARTIFICIAL INTELLIGENCE OF THINGS [AIoT] WILL SPREAD
2023 will continue to leverage AIoT – the smart combination of Artificial Intelligence and the Internet of Things [IoT]. AIot is the magnificent empowerment of machines, applications, services, users, and network platforms.
The implementation of AI within an IoT solution enhances Data Analytics and enables Machine Learning. AI within IoT systems can automate IoT operations, manage data and communication, perform real-time data analytics, and improve human-machine interactions.
IoT helps in providing predictive analytics from the backend while infusing cognitive capabilities to edge devices. AI presents real-time actionable insights that will continue to drive IoT to new heights by allowing it to perform an action based on the data collected.
4. AI-POWERED CYBERSECURITY IS BECOMING MORE SOPHISTICATE
As more of the world continues to embrace remote working models, in 2023 you will see AI being used for preventative cybersecurity initiatives. AI helps to fight cyber threats were cybercriminals are using AI to bypass conventional IT security to infiltrate systems.
Deep learning serves huge benefits for cybersecurity since it holds the ability to analyze and mitigate large sets of potentially malicious data without any human interaction. Organizations are securing their data through the use of sophisticated cybersecurity technologies. Smart algorithms are keeping us safe from cyberattacks.
Metaverse is a digital environment where users can work and interact together in a virtual space. AI is powering the metaverse and will enhance our digital worlds to create an immersive experience by creating online environments where humans can have their creative impulses fostered.
Metaverse has the potential to change the world. AI can help to create a more efficient and effective metaverse whereby it helps the metaverse to live up to its promises by creating realistic avatars, developing new digital products, and facilitating remote working and collaboration.
STAY AT THE FOREFRONT OF INNOVATION WITH THE RECENT TRENDS & ADVANCEMENTS
As the 2023-year rolls in we will see a massive jump in the sophistication of AI and to ensure you stay relevant in the market with recent trends in Artificial Intelligence – IntellectFaces skilled professionals, will let you analyze one, build & optimize, get on board at the early stages of trending technologies, and positioning your business to transform.