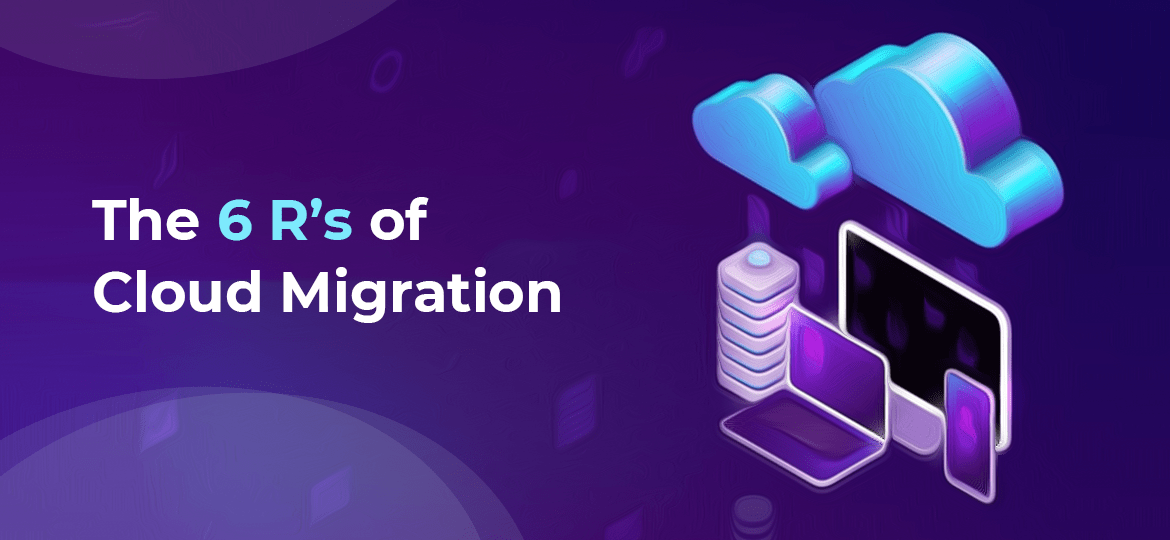 The 6 R's of Cloud Migration
By 2025, almost two-thirds say 65.9% will move from traditional solutions to the cloud.
There is no one-size-fits-all migration plan. Developing a roadmap for migration will answer all of your questions about what, how, and in what order to move the components. That's how a cloud migration solution comes into the picture.
Formulating a migration strategy is an in-depth process. 6 R's are your essential tool to structure and communicate your application transformation roadmap which helps to determine for each and every application what is the best strategy to move the application to the cloud.
The blog aims to understand better a suitable cloud migration to assist you to curate a path for a smooth migration to the cloud.
In this article you will learn:
What Is Cloud Migration?
How do the 6 R's help you define your Cloud Migration?
6 R's Cloud Migration
– Roadmap
– Re-architecting
– Replatforming
– Retire
– Retain
– Repurchasing
Why IntellectFaces IT Solutions Cloud Migration?
WHAT IS CLOUD MIGRATION?
Cloud Migration services is the process of moving digital assets – data, IT resources, and applications to cloud infrastructure provided by a public clouds service provider such as AWS, Google Cloud, or Microsoft Azure.
Cloud Migration is the process of moving digital business operations into the cloud. It brings in a new level of life and innovation to your company's business practice and application architecture.
By shifting to the cloud, you switch from an on-premises platform to a cloud-based one.
HOW DO THE 6 R'S HELP YOU DEFINE YOUR CLOUD MIGRATION?
What's the best cloud migration strategy for your organization?
Choosing a strategy to move your applications to the cloud is the first step to a successful migration. Every cloud migration roadmap needs to define a clear strategy based on a holistic application assessment.
The strategy should be designed according to your business objectives. This assessment not only takes into account the technical aspects alone but also business, organization, security, and compliance. The selected strategy fundamentally affects the expected migration effort and this is where the 6 R's comes into play.
6 R's Cloud Migration
The 6 R's are your essential tool to structure and communicate your application transformation roadmap. Let's take a deep dive into each element of the migration strategy.
1. ROADMAP
Running Cloud Proof of Concept helps to validate your application's functionality, performance, cloud costs, migration tools, and make essential customization before going live. IntellectFaces' Cloud Proof of Concept empowers you to define your solution and helps you to embark on a successful cloud journey.
Cloud Strategy & Roadmap map out your path to the cloud. It is a visual communication tool that describes Why, What, and How your organization will migrate to the cloud which includes key tasks, deliverables, and deadlines. Cloud strategy roadmaps should have objectives aligned, proper planning, preparation for execution, governance, and collaboration.
2. RE-ARCHITECTING
Refactoring or Rebuilding is when you tweak and optimize your applications for the cloud. Re-architecting an application often comes along with the opportunity that involves breaking down the application's components into smaller fragments or building blocks, microservices, and wrapping them for deployment.
In doing so, the application is refactored using an alternative application architecture. Adjustments are made to enable the better use of cloud-based tools, improve reliability for an anticipated burst of traffic and activities, and make the application future proof which greatly improves the simplicity and makes a business process more agile.
3. REPLATFORMING
Referred to as move-and-improve approach – Cloud implementation is the execution of a plan that gets you to the end product where you can successfully take your cloud project from planning and design to implementation. It answers your question How do you want your model to be implemented?
With proper planning and implementation, you need to keep workforce development in mind in order you train your staff on getting comfortable with the little tweaks or switching cloud providers. Finding the right solution is a cost-effective solution for your company.
4. RETIRE
Identifying the migration allows you to evaluate, scrutinize your stack, discover redundancies that are no longer in use, and rip out those that have been phased out of use and are not productive to free up resources. This strategy involves identifying assets that can be turned off so you can focus on those that are of immediate value.
Sometimes retire also called Reconcile expresses the consolidating effect when leveraging the existing application portfolio for replacements. You should take cloud migration services as a welcome opportunity to screen your application portfolio and reduce obsolete applications on the go.
5. RETAIN
This strategy focuses on revisiting critical applications of your digital assets that need refactoring before migration. Some applications aren't ready for cloud shifting due to technical, compliance, governance and security reasons. At that time, you can implement a strategy to retain the assets.
Retain or Revisit means that you do not migrate the application at this point since you are lacking important information or are hindered by other factors. You should set yourself a reminder to "revisit" the application because the compliance or technical landscape might have changed.
6. REPURCHASING
Referred to as drop and shop strategy – a decision to move to another product. Replacing or Repurchasing involves moving applications and data to a ready-made cloud-native product. It is the strategy where legacy applications are fully replaced by a SaaS solution that provides similar capabilities.
The process involves migrating to a third party which entails switching from an existing licensing by getting rid of an existing system when you want to repurpose services and adopt new cloud computing benefits that are tailored to your business needs by the cloud provider.
Why IntellectFaces IT Solutions Cloud Migration?
An effective cloud migration solution includes a strategy roadmap, modeling, architecture, planning, and implementation. IntellectFaces enables you to confidently take your company's existing data and applications to the cloud by providing powerful cloud cost intelligence and articulating them in a cloud-based product to help manage operations.
We cater to businesses across geographies. Our team helps in tracking migration costs in real-time so that they can see the immediate effects of architectural decisions which helps them to build cost-effective solutions at every step of migration.
Get in touch and explore to see how our cloud solutions can ensure smooth & hassle-free Cloud migration of your applications, database, servers, and end-to-end analytics workflow deployment with cost confidence.