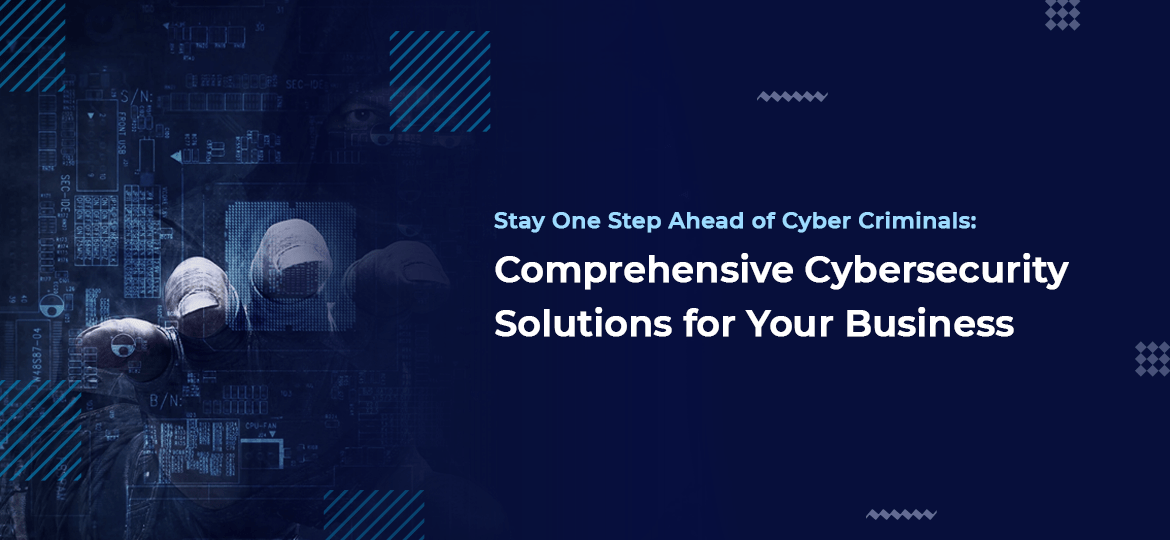 Stay One Step Ahead of Cyber Criminals: Comprehensive Cybersecurity Solutions for Your Business
TABLE OF CONTENTS
Introduction
Essential components to protect organization's valuable data resources
Identity and access management
Implement a multi-layer firewall
Robust security patch management
Develop backup & disaster recovery plans
Perform penetration testing
Promote employee training & Education
Prevent cyber threats 24/7 with post-support
Introduction
Is your business prepared for a cyberattack?
Cybersecurity has always been a prime concern and critical aspect of modern business operations. New and innovative phishing methods are being deployed by cybercriminals as they attempt to trick users into divulging login credentials or accessing confidential information. This makes it very crucial to secure business accounts and networks with reliable security solutions.
With potentially vulnerable IT networks, you need a comprehensive cybersecurity strategy that's fundamentally embedded into the way your business operates.
Essential Components to Protect Organizations Valuable Data Resources
Say goodbye to the uncertainty of worrying about cyber threats! With our cybersecurity services at your side, you can have confidence that your business is secure from data breaches.
The following six tips outline smart cybersecurity strategies and lets you secure your valuable data resources:
1. Identity and Access Management
Cybercriminals often exploit compromised user credentials to get into your business network and access information.
The use of identity and access management solutions, allows you to define, manage, and access privileges of end-users accessing your business network which helps for more granular control over who can access your data and protect your business assets against the risk of criminal hacking, phishing, and other forms of malware attacks.
Employing an IAM cybersecurity solution helps you to streamline the authentication process, improves overall security, embraces business productivity, and leads to superior user experiences.
2. Implement Multi-layer Firewall
To initiate an attack, cybercriminals need to gain entry into your company's system.
Firewall solutions are designed to block unauthorized access to the network and prevent malware and other cyber threats from penetrating the system. A multi-layer firewall adds an extra layer of security by using multiple firewall systems that work together to block malicious traffic and prevent cyberattacks.
Implementing a multi-layer firewall is a proactive step, where businesses can create a comprehensive security system that provides better protection against attacks, reduces the risk of unauthorized access to sensitive information, and ensures the continuity of business operations. Multi-layer firewall provides an umbrella approach to cybersecurity.
3. Robust Security Patch Management
Unpatched vulnerabilities in software and missing important security patches can make your business network susceptible to cyberattacks and the easiest way for them to gain access.
A robust security patch can help in identifying new security vulnerabilities. Installing multiple patches automatically helps you to find the best solution and to plan a rigorous update schedule with the latest cybersecurity standards to keep your network infrastructure protected against cybercriminals.
Doing so will help in ensuring that operating systems, business applications, and embedded systems in your company are secure with continuous monitoring of new vulnerabilities minimizing the risk of cyber threats.
4. Develop Backup & Disaster Recovery Plans
Data backups are not sufficient to protect your business from an environmental disaster.
One of the reliable ways to bounce back from a cyberattack is to have reliable data backups which you can access in case of information loss. You need to develop disaster recovery plans that address all of their business-critical systems. Backup data regularly, remotely, and redundantly. Store your data in multiple locations as you can quickly recover from the latest backup point before negative consequences occur.
Backup and disaster recovery solutions help you to recover lost data. get back up, and run after a security breach.
5. Perform Penetration Testing
Penetration testing looks at a computing infrastructure from the perspective of cyber criminals attempting to gain unauthorized access.
Penetration testing is a proactive approach to cybersecurity that involves testing networks, and pointing out specific vulnerabilities and weaknesses that need to be eliminated to secure the environment. Ethical hackers will conduct the testing regularly to address the evolving nature of cyberattacks.
Our expert team of security professionals uses the latest tools and techniques to simulate real-world cyber-attacks and provide recommendations for improving overall security.
6. Promote Employee Training & Education
Cyber threats are constantly evolving and present new risks and challenges. What's more important than properly functioning technology?
The important steps that you can take to improve cybersecurity are to promote continuous employee training and education that will empower your employees to identify spam mail, understand ransomware works, encrypt communications on channels, be vigilant for phishing scams, and back up data regularly.
Doing so will keep your employees up-to-date with the latest cybersecurity threats and help to mitigate the security risk of all which is unintended human error.
Prevent cyber threats 24/7 with post-support
Say goodbye to cyber threats! With IntellectFaces at your side, you can have confidence that your business is secure from data breaches, reprioritize your business network & systems security allowing you to focus on what matters – growing your business and can stay one step ahead of cybercriminals!
Talk to our expert to learn which one will be apt to implement to secure your business in the digital age.